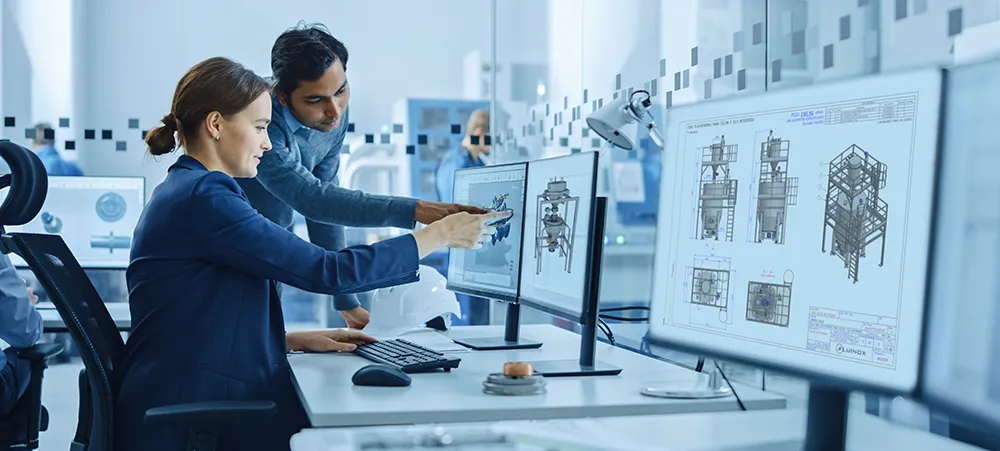 In the industries in which INOXPA is specialised (food, beverages, dairy, pharmaceuticals and cosmetics), whatever your need is, both in liquid and solid processes, we have a SOLUTION.
Our highly skilled and experienced multidisciplinary engineering team can offer you a consultancy service, before developing a conceptual design for the equipment, installation, or plant. Once the customer gives the go-ahead to develop the project, our engineering team gets to work, applying both basic and detailed engineering. We also develop the functional description at this stage, which enables us to apply automation.
Most equipment or installations need to be fully automated to ensure repetitiveness and control over process variables. We can develop simple and intuitive automatic systems through to comprehensive complex supervision controls in order to comply with industry 4.0, so that equipment and installations can analyse and diagnose problems without requiring human intervention. We can integrate our equipment or installations into existing systems if needed. We can also create automatic systems in accordance with Audit Trail CFR21 part 11 (FDA), enabling the secure recording of all equipment activity and who performed it, a growing requirement in the pharmaceutical industry.
Our highly skilled engineering team can develop projects that require certification such as PED (Pressure Equipment Directive), ATEX (Explosive atmospheres), and to fulfil the strictest standards in each sector, such as GMP guidelines.
After manufacturing the equipment, our engineering team suggests our customers perform FAT tests at our installations prior to delivery in order to validate functionality and design. Once the equipment is installed in the customer's plant, SAT and Start-up tests are usually performed, with training provided for the customer's operators. For pharmaceutical industry projects, we can prepare and supply IQ/OQ protocols for performing the required validations so the equipment can start the production.